HOFFMAN FILTRATION SYSTEMS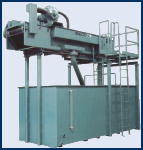 Vac-2500 Filter with clean/ dirty liquid tank.
Air Liquid Systems, Inc. is an industrial manufacturing and service company
serving worldwide customers for over 25 years. We specialize in the design and
manufacture of
Hoffman Liquid Filtration Systems
, design and manufacture of complete
strip drying systems
, and supply of all filter and strip dryer spare parts
and accessories.
In addition to new systems, Air Liquid Systems, Inc. is a qualified repair and rebuild
vendor for industrial blowers and exhausters, fans, liquid/air pumps, air compressors and heat exchangers, and a sales office for Gardner Denver blowers and exhausters and a wide range of industrial air compressors.
MANUFACTURE:

Hoffman's complete line of liquid filtration systems,

Complete strip drying systems
SUPPLY:

Hoffman Filtration spare parts, replacement parts,

Disposable filter media
including the Vacu-Matic Filters
and accessories, including Gardner Denver exhausters
DISTRIBUTION
:

Western Pennsylvania and West Virginia representative
for Gardner Denver.
SERVICE:

Repair and rebuild of industrial blowers/exhausters and

Repair and rebuild of industrial pumps and compressors

Repair of heat exchangers
fans